Deborah Smaal Hair transplantation
"Where passion and perfection result in unforgettable results."

Only hairtransplantations
We focus on hairtransplantations and do not perform other (distracting) treatmtents. We are convinced that one should only do that which one does best! Our team excels in performing hairtransplantations so this is the only thing we do, with love, passion and dedication every single day. This guarantees the best results for you.

Unique FUE methode
We perform the FUE methode (Follicular Unit Extraction) in a unique way. We are the only clinic that uses the smallest needles possible, specific for your needs, because every client is different. We want the least amount of damage possible but with the best results in density and therefore use needles that are 0.6-0.65-0.7mm big. The smallest needles are used for fine hairs in the hairline and grafts with multiple hair are used behind the hairline for density! For the most natural and perfect result.

Scar treatments
For almost every scar there is a treatment option. How young or old you are, where the scar is situated (eyebrow, beard, scalp); it doesn't matter! As with standard hair transplantation, scar treatment is performed with the highest skilled team, extreme levels of handcraft, love for this work and lots of patience. Our passionate team has all of these qualities.

Differentiated
We differentiate ourselves through years of experience, an innovative and unique treatment method and the personal nature of the care. Each treatment is carried out by a highly skilled team (consisting of an experienced physician and medical team) who, with a lot of passion and perfection, ensure an unsurpassed result that you will enjoy for a lifetime!

Personal care
Your wishes and interests always come first. You will be treated in an unique location, in an exclusive setting with complete privacy, in which you will immediately feel at home and above all, safe. On the day of the treatment, the entire team is prepared for you and you will have access to the entire clinic. Because we only perform one treatment per day, your treatment will proceed smoothly and accurately. Inform us about your special wishes and we will go the extra mile to realise this for you. Your family, and even the (small) children, are very welcome. In short: our team is always ready for you, during and after the treatment!
Because ultimately everything revolves around the result, there is a lot of deliberation about your new hairline (or other treatment area) during the consultation and on the treatment day itself. We do this together! By talking about the past, your current wishes and taking into account the future, we provide the most natural hairline that is not only beautiful and fitting now, but that you can continue with for the rest of your life. This is a very delicate process and requires a lot of time and attention in which we will of course help you to make the right choices.

Intensive guidance
Even after the treatment, we do not lose sight of you. In order to ensure your recovery progresses, it is important to follow our instructions carefully. Of course we ensure this together. The recovery time of the treatment is about 4 to 7 days, after which virtually nothing is visible from the treatment. We can be reached 24 hours a day during your recovery period. For questions and advice, or a brief meeting in the clinic, everything is possible. After 9 months the final inspection takes place where we, (while enjoying a cup of coffee), look at the old and new photos together and discuss what you think of the result, a beautiful moment! A closure of the treatment path or the starting point for a possible next transplant (in another area) and thus a repeatment of the previously made trip.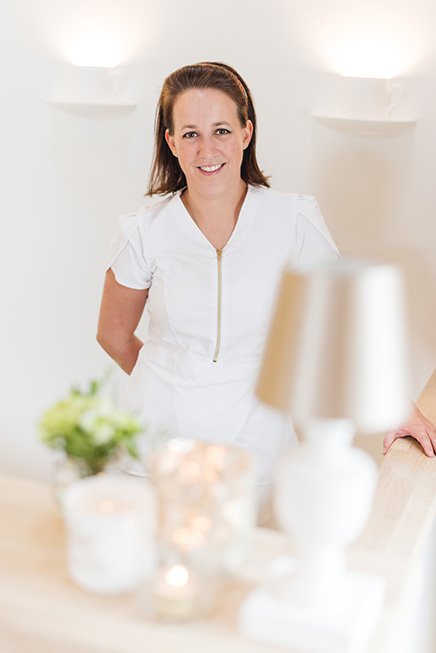 About Deborah Smaal
After my study in medicine, I immediately started working (after intensive training) as a hair transplant doctor. Since 2012 I have been working for a fast growing and internationally operating company within the hair transplantation world. In recent years I have been working in Maastricht, Amsterdam, London, Berlin and Düsseldorf. Because of this I gained a lot of experience. I also met people of all nationalities and each with their own specific wishes and preferences. Over the years, I have developed my own vision that I can and may proudly share with you in my own clinic.
During these years I saw that the success of such a clinic is mainly achieved due to personal contact. What could be more pleasant than short lines, a single point of contact, full personal attention with the appropriate care that meets the highest quality requirements and standards? With us in the clinic you will feel at home and you can fully relax. You do not have to wait for anyone as we are alone with you. I experience a lot of gratification from working with anxious customers. It is an honor and a challenge to be able to work with clients who are often afraid of medical treatment or who think they will become anxious.
The search for the right location and the right specialists is finally complete. I hope that you can enjoy your experience in our clinic as much as I do.
I am looking forward to receiving you at the clinic so that we can come to a permanent solution for your hair problems together.
Hope to see you again!
Drs. Deborah Smaal
Positive changes
---
Our team has seen and treated many different hair types, hairlines and forms of hair loss. We do this with passion, skill and dedication.
Many clients say that after the treatment they not only have a more beautiful appearance, but that their self-confidence has increased. These positive changes often have a huge impact on their daily lives. Cycling through the rain, swimming, sitting under a bright lamp and having a certain desired haircut, all belong to the possibilities again. Clients obtain a different (slightly younger and well-groomed) appearance and are often better off after the treatment. The most common comment is "If I had known that the treatment would be that simple, I would have done it much earlier!".
---
3 specialists
---
The result of the treatments depend on the qualities of the team. The work requires a lot of attention, passion, above-average dexterity, experience, patience and love.
---
If learning is so fantastic ...why would you ever stop?
The advantages of a transplant in our clinic include: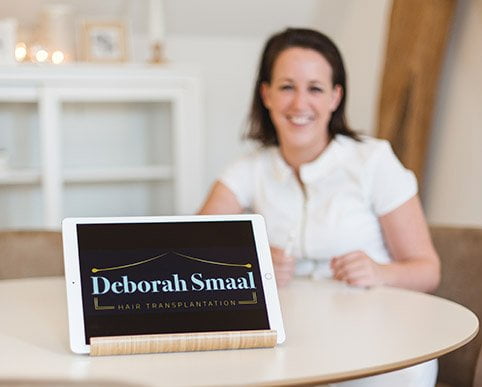 Practically painless treatment after a short (very tolerable) local anesthetic.
Very exclusive private setting where you will immediately feel comfortable and at home.
A passionate, loving and (far above average) capable team of specialists.
FUE technique is applied in a very unique way through the use of different needle thicknesses. This results in the most natural hairline and volume.
During the treatment day we store your pieces of tissue in a very special way so that a lasting result and lifelong growth is guaranteed!
High quality of (after) care.