How does the day progress?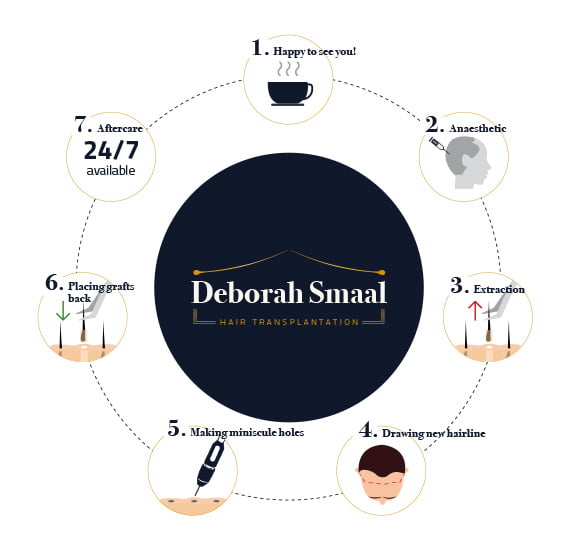 You arrive at our clinic

Great that you are here!

Coffee/Tea!

Do you feel well today? Catching up. Make yourself feel at home.

Signing of papers

Mandatory and important for the registration of your treatment.

Taking photos

We take photos, shave your hair and anesthetise a piece of skin from the back of the head.

Geting started! Extraction of the grafts

You may lie down on your stomach. We can play your favorite music (if desired) or you can have a chat with us. You can of course also sleep. Pausing is possible at any time. There is always something tasty waiting for you.

The morning is finished

The grafts have been harvested and are "waiting" in a very precious liquid so that they can grow in perfect condition in their new place.

Lunch

We will provide you with a delicious lunch.

Time to be creative

How are we going to use the grafts? Together we will create a beautiful design.

Back in the chair

Now in a sitting position (yes, you can watch movies now!). After anesthetising the skin you will not feel anything anymore and Deborah will make small holes in the agreed area. Taking into account the natural growth direction and distribution of the hair.

Placing back the grafts

The medical team places all the grafts neatly back into the holes that have been made.

You are done! Time for the instructions

Are all the grafts placed? All the holes filled? Together we will discuss the recovery period and afterwards you can go home or to your hotel. We are available 24 hours a day after the treatment. You can always call for any question (no matter how small).